Sign up to help at our Easter Bunny Pet Photos!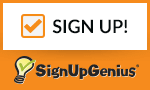 Sign up to sell Malley's Easter Chocolates!
Open Volunteer Positions
These are the open volunteer positions with Live Love Rescue. We always need volunteers who can help in ANY way, including doing any of the tasks listed in these positions to support the rescue. If you don't feel you want quite the responsibility of the entire position but are willing to do a portion, we still want to hear from you! Email us at apps@liveloverescueohio.com if you have any questions or are interested, or contact us on Facebook! Sample items that we need help with are processing applications, matching dogs to applicants, fundraising, and more.